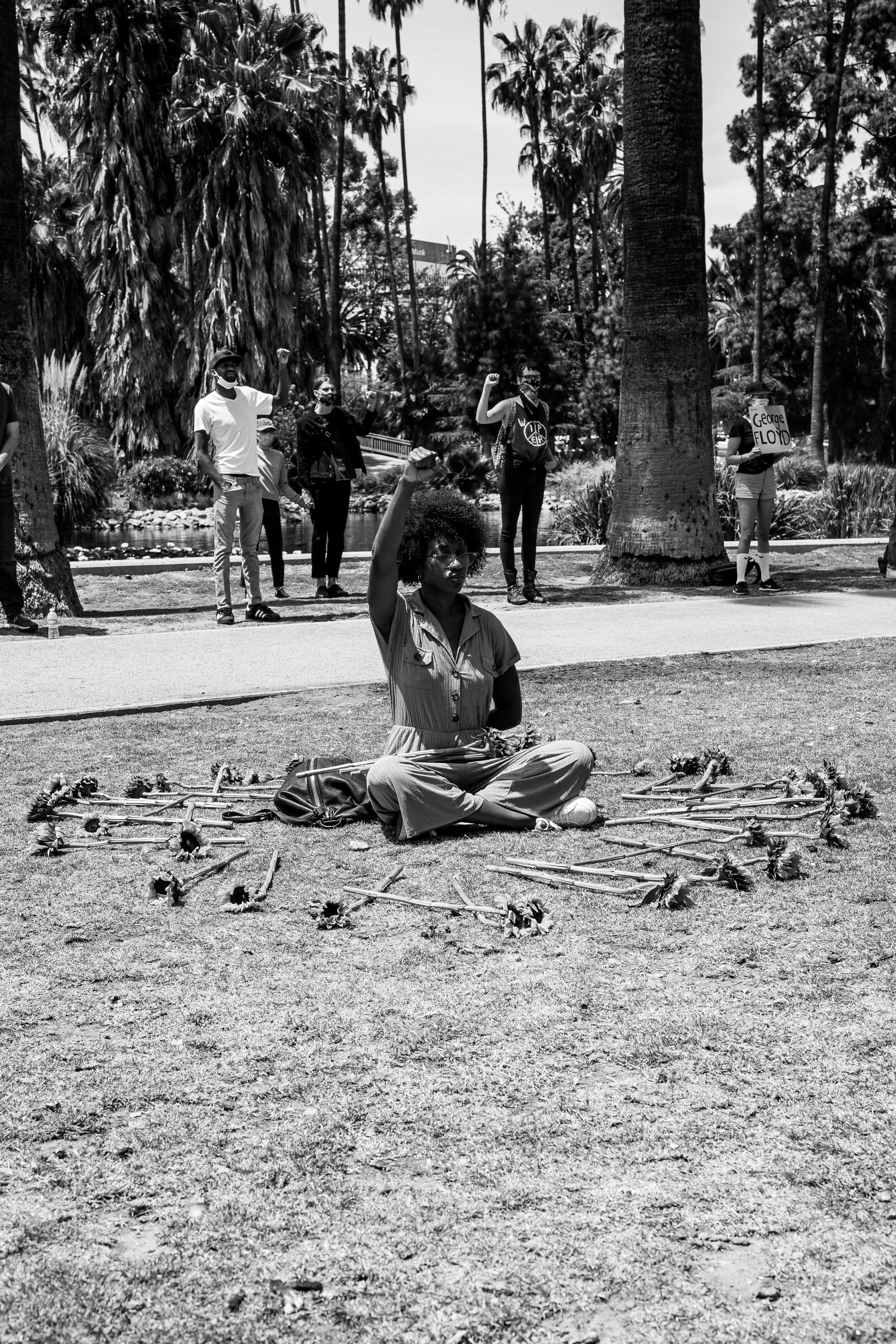 As the country navigates the effects of COVID-19 and its implications on our economic, mental, and social well-being, Black people are also mourning for the victims of police violence. We are heartbroken, enraged, and exhausted. Our country's callous and continuous assault on Black people through police brutality must end.
We are a collective of Black tech entrepreneurs, investors, creatives, changemakers, and workers, united to use our social, political, and economic capital for the advancement of our communities. We commit to acting in solidarity with those leaders working to create a more just world.
Tech is complicit. We as Black people in tech have a unique position and opportunity to respond to violence against Black people's bodies. While we're proximate to the pain, we largely avoid its most brutal physical outcomes. But we, too, feel the blows. We carry the scars on our psyches and hearts as our voices go largely unheard in the workplace and beyond.
No longer.
We carry a legacy from our ancestors to strategically lend our voices and resources in confronting the anti-Blackness at the core of systemic racism and oppression. While anti-Blackness in policing and policy exists nationally, we will lift up efforts of local Bay Area community leaders as an example for other cities to follow.
After consulting with local leaders and Just Cities, a local transformative justice organization, we, as Black people in tech, commit to doing one or more of the following and ask our Allies to do the same.
Demanding accountability and systemic change in response to the murderers of George Floyd, Ahmaud Arbery, Breonna Taylor, and Tony McDade. I commit to signal boosting, volunteering with, and donating to groups like Center for Policing Equity or Color of Change that work for immediate action.

Supporting groups advocating for police accountability and justice. I commit to signal boosting, volunteering with, and donating to local groups advancing police accountability or structural reform. Statewide and nationally, The Ella Baker Center for Human Rights advocates for community reinvestment instead of prisons and policing. In Oakland, the main groups are the Coalition for Police Accountability, Anti-Police Terror Project, and the new civilian-led Police Commission, which is one of the strongest in the country. Critical Resistance - Oakland also advocates for alternative investment to imprisonment. In San Francisco, SF Interrupting Racial Profiling and National Lawyers Guild SF both work on the issue.

Pressuring City Police Chief and Police Union Leadership. I commit to demanding concrete advances in racial justice and genuine community policing. Some examples of what we would like include changes to police training, police conduct standards, and police personnel rules. In Oakland, contact Interim Police Chief Susan Manheimer, smanheimer@oaklandca.gov; Oakland Police Officers Association President Barry Donelan, bdonelan@oaklandca.gov. In SF, reach out to your local supervisor to ensure upcoming appointees to the SF Police Commission support reform.

Channeling resources to the Black employees at my company, Black founders, Black-led nonprofit support organizations that I am in a position to fund, and Black suppliers that my business can support. I commit to doing everything I can to ensure proportional representation in my hiring of Black employees and/or funding of Black entrepreneurs. I also commit to supporting organizations focused on increasing diversity in the tech industry hiring pipeline. Further, I commit to advocating within my organization for African American employees to be promoted, mentored, sponsored, and otherwise supported so they are positioned to succeed in the same way as employees from other groups. I understand ownership is the path to closing the racial wealth gap. I commit exploring a path for employees to become shareholders and decision-makers in our company. Finally, where possible, I will advocate for my company to use Black suppliers, Black vendors, and otherwise support Black businesses in the communities where we are located.

Electing progressive mayors, city councilmembers, and district attorneys. I commit to supporting local leaders with track records (not just rhetoric) of advancing courageous racial and social justice actions. This might look like helping with digital campaigns, donating money, or ensuring that budgets reflect the priorities of Black communities.
————————————
Join us on August 20, 2021 at 5:00 PST for a Community Circle, we will focus on our community organization and political action efforts, sharing updates and ways that you can support
Revolutionary social change doesn't happen in a vacuum. It requires all of us to stand up and move beyond words to take brave, decisive action. We are committed to leveraging our privilege and position to end the structural and acute violence that plagues our people. As we stand up, we call on our Allies to support and transition to Accomplices. We welcome you to sign the pledge, share it to other Accomplices, and commit to taking one of the aforementioned actions today.
Recent events make it clear that we can't go back to the way things were. Let's unite to make sure that Black lives and Black futures both matter.
Signed,
Y-Vonne Hutchinson, CEO, Readyset | Aniyia Williams, Executive Director, Black & Brown Founders | Maurice Wilkins, Global Diversity & Inclusion, Fastly | Darrell Jones III, Healing, Liberation, & Joy, Just Cities; Co-founder, TechEquity Collaborative
With support from,
Michael Seibel, Y Combinator | Erica Joy | Arlan Hamilton, Founder, Backstage Capital | Brian, Author, Jungle Scout, Helium 10 & GrowthDevil.com | Bärí A. Williams | Leslie Miley, Former CTO, Obama Foundation | Ruben A. Harris | Charles Hudson, Managing Partner & Founder, Precursor Ventures | Wayne Sutton | Sarah Kunst, Managing Director - Cleo Capital | Monique Woodard, Angel & Venture Capital Investor | Megan Rose Dickey | Marco Rogers | Kaya Thomas, Engineer and Founder of We Read Too | Chris Bennett, CEO and Co-founder | Sevetri Wilson | Everett Harper, CEO and Co-founder | Brian Brackeen, General Partner - Lightship Capital | Sian Morson, Founder & CEO Kollective Mobile | Ulili Onovakpuri, Partner, Kapor Capital | Erin Teague | Brian Dixon, Partner, Kapor Capital | Stephen Green, Founder PitchBlack | Tiffani Ashley Bell, Founder & Executive Director, The Human Utility | Danielle Leslie | Felecia Hatcher, Co-Founder Blacktech Week | Mina Markham | Julia E Collins | Elliott Robinson, Partner, Bessemer Venture Partners | James Jones Jr., Esq. | Kristina Jones, Founder and CEO of Guardianlane.com | Brittany Davis, Principal, Backstage Capital | Cuy Sheffield, Head of Crypto, Visa | Sydney Thomas, Precursor Ventures | Catherine Bracy, Co-founder and Executive Director, TechEquity Collaborative | Albrey Brown, Diversity, Equity, Inclusion, Airtable | Cedric Brown, Chief Foundation Officer, Kapor Center | Jaron Shipp, Assistant General Counsel, Facebook | Jeremy Richardson, VP of Product, Catch&Release | Taj Ahmad Eldridge, Senior Director Investments - LACI | Terell Sterling, Founder and CEO, Go Paladin | Regina Gwynn, Co-Founder, Black Women Talk Tech & TresseNoire | Lauren Olivia Ruffin | Chris Lwanga | Cynthia Overton, Director of Tech Workplace Initiatives, Kapor Center | Jacky Alciné, Engineer | Iman Gibson | Allison Scott, Chief Research Officer, Kapor Center | Richard F. Purcell | Abisola Adedokun | Corey L Weathers, Developer Evangelist, Twilio | DeVaris Brown | Joshua Encarnacion, CEO, Outco Inc.| Harold Hughes, Founder & CEO of Bandwagon | Esosa Ighodaro, Co-founder of Black Women Talk Tech & Maskgrant | Robert Gordon IV, Director of Partnerships, /dev/color | Sibyl Edwards, Co-founder of Black Female Founders | Lauren Washington, Co-founder of Black Women Talk Tech and Fundr | Lisa Francoeur | Yulkendy Valdez, CEO of Forefront | Dr. Roshawnna Novellus, CEO & Founder, EnrichHER | Wahab Owolabi, Founder URx | Arion Long, Founder at Femly | Opéola Bukola, Founder, Lillo Consulting | Chelsey Lowe | Tiffany Lorraine Shumate | Clarence Sanon | LeShane Greenhill, Co-Founder, Sagents | Shelly Bell, Founder/CEO of Black Girl Ventures Foundation | Marcus Whitney | Damola Ogundipe, Civic Eagle | Willie Jackson, DEI Speaker, Consultant & Facilitator | Deloris (Dela) Wilson | Marie Rocha, Founder, Realist Ventures | Kiera Smalls, Executive Director of Philly Startup Leaders | Russell Ladson, CEO, Drop | Lauren A. Reeves, Software Engineer | Travis Sheridan | Chinedu Enekwe, Partner Aux21 Capital & Producer Venture the World | Ope Bukola | Leigh-Ann Buchanan, President & Exec. Dir., Venture Cafe Miami | Doug Speight | Ed Ross | Riana Lynn | Aaron K Saunders, CEO Inclusive Innovation Incubator | Madison Maxey, CEO & Founder of LOOMIA | Christina Celuzza, Program & Experience Design Lead at Venture Cafe Global Institute | Kelly Burton, CEO, Founders of Color | Quest 'Digital Mercenary' Moffat | Tarryn Henry | Sterling Smith, Sandbox Commerce | Calvin Williams, CEO of Freeman Capital | LaShana Lewis, CEO, L. M. Lewis Consulting | Jason M. Coles, Founder, Katika, LLC | Mark Hamblin, Industrious | Erica M. Plybeah, Founder, MedHaul | Dee Poku, Founder, WIE and Black Women Raise | Dr. Reginald Parker Sr., Founder of Optimal Technology Corporation | Lisa Osborne, Director of Emerging Media, Black Public Media | Thkisha Sanogo, Founder & CEO MyTAASK, Inc. | Vanessa Mason, Research Director, Institute for the Future | Jessica Norwood, Runway Project | Terik Tidwell, Executive Director, Smith Tech-Innovation Center at Johnson C. Smith University | Kevin Dedner, Founder & CEO, Henry Health | Darren Jackson, Founder, All Black Creatives | Thomas K.R. Stovall, Process Architect, Intention Mastery | Shaun Randolph | Bea Arthur, Founder + CEO of The Difference | Jean Brownhill, Founder and CEO of Sweeten | Tuoyo Louis, Co-founder, Seae Ventures | Natalie Self | Ryan Triggs | Jason Robart, Co-Founder, Seae Ventures | Cordelro Brown | Modjossorica (Rica) Elysee, CEO, BeautyLynk | André Davis, Founder, Humble Genius Media | DeShuna Spencer, kweliTV | Ciara Imani May, CEO and Founder of Rebundle | Netia A McCray | Sonya Fox, Founder & CEO, Vurde, Inc. | Boris Moyston, Co-founder, Black Men Talk Tech | Angelic Williams, Founder and CEO of MyUmbrella | Aneesha Hargrave | Katrina Jones, Diversity, Equity & Inclusion Changemaker | Mimi Fox Melton, Code2040 | Dawn Dickson, CEO, PopCom | Jackson Cummings | Remound W. Wright III | Erin Horne McKinney, Founder & CEO - Black Female Founders (#BFF) | Denisha Kuhlor Chandler | Malone Atento CapitalSterling Smith / Sandbox Commerce | William Spruill | Domonique Fines, Director of Engagement, All Raise | Ed Ross | Kelcey Gosserand | Hadiyah Mujhid, CEO and Founder, HBCUvc | Jason Lorne Giles | Rodney Sampson, Executive Chairman & CEO, OHUB; General Partner, 100 Black Angels & Allies Fund | Jean Nicole Morelos, Upwards & Onwards | Danielle Kayembe, CEO GreyFire Impact | Louise Broni-Mensah, CEO, Shoobs | Michele Heyward, PositiveHire FounderCEO and Founder | Denisha Kuhlor | Shari Sweeney, A Certain Aesthetic | Asha Owens, Co-Founder & CEO - BestFit | Ola Ayeni, CEO, Claim Academy | Kerry Bowie, Managing Partner, Msaada Partners| Camille Hearst | Alton Glass, CEO & Co-Founder GRX Immersive Labs | Lincoln W Daniel | Talib Graves-Manns | Naya F. Powell | Tyler Dean | Kezia M. Williams, CEO of The Black upStart | Natalie Self | Lindsey E. Murphy, Founder of TheFabLab.com and MurphMedia LLC | Eric Muntz, CTO, Mailchimp | Nancy Douyon, Founder Douyon Signature Labs | Mandela SH Dixon | Lafawn Davis | Benda Wilkerson, CEO & President, AnitaB.org | Alex Lofton, Co-Founder, Landed | Lisa Gelobter, CEO & Founder, tEQuitable | Brandon Anderson | Comprehensive List of Supporters
Ally Supporters,
Ellen Pao, CEO, Project Include | Aaron Levie, CEO, Box | | Freada Kapor Klein, Partner, Kapor Capital | Mitchell Kapor Partner, Kapor Capital | Hunter Walk, Partner, Homebrew | Bryce Roberts, Founder, Indie.vc/OATV | Bastian Lehmann, Co-founder & CEO, Postmates | Joshua Bixby, CEO, Fastly | Satya Patel, General Partner, Homebrew | Don MacAskill, CEO & Chief Geek, SmugMug & Flickr | Melinda Briana Epler, CEO, Change Catalyst | Marc Hedlund, Sr. Director of Engineering | Juan Pablo Buritica, Head of Engineering, LatAm, Stripe | Eddie Kay, Senior Engineering Manager, Toast | Nicole Sanchez, CEO & Founder, Vaya Consulting | Mara Zepeda, Co-Founder, Zebras Unite | Joelle Emerson, CEO, Paradigm | Michele Don Durbin, SVP, Evernote | Jeffrey Kolovson, Co-founder/COO, Faire | Cedric Fernandes, VP Software Engineering, GoPro, Inc | Karla Monterroso, CEO, Code2040 | Shanley Kane | Will Larson | Michelle Kim, CEO, Awaken | Lexi Reese, COO, Gusto | Jesse Pollak, Head of Engineering, Consumer, Coinbase | Kim Scott, Co-Founder, Radical Candor | Leanne Pittsford, CEO & Founder, Lesbians Who Tech | Comprehensive List of Allies